This is one of many community projects that received funding from the Council's Cost of Living Crisis Community Response Fund – find out more here

The Wellbeing Café
Neighbourhood Nosh is a community initiative that gives residents in the local community access to healthy food. It is run by the Primrose Hill Community Association (PHCA), who have just launched the Wellbeing Café to support residents with the cost of living crisis.
The café offers a welcoming space for residents to enjoy healthy food and socialise with others. Every Wednesday from 10am to 2pm, volunteers serve homemade food. The café operates on a pay-what-you-can-afford basis, with all proceeds going back to Neighbourhood Nosh to help the local community.
We spoke to Nikki, who volunteers at PHCA, to learn more about the Wellbeing Café and its impact on the local community.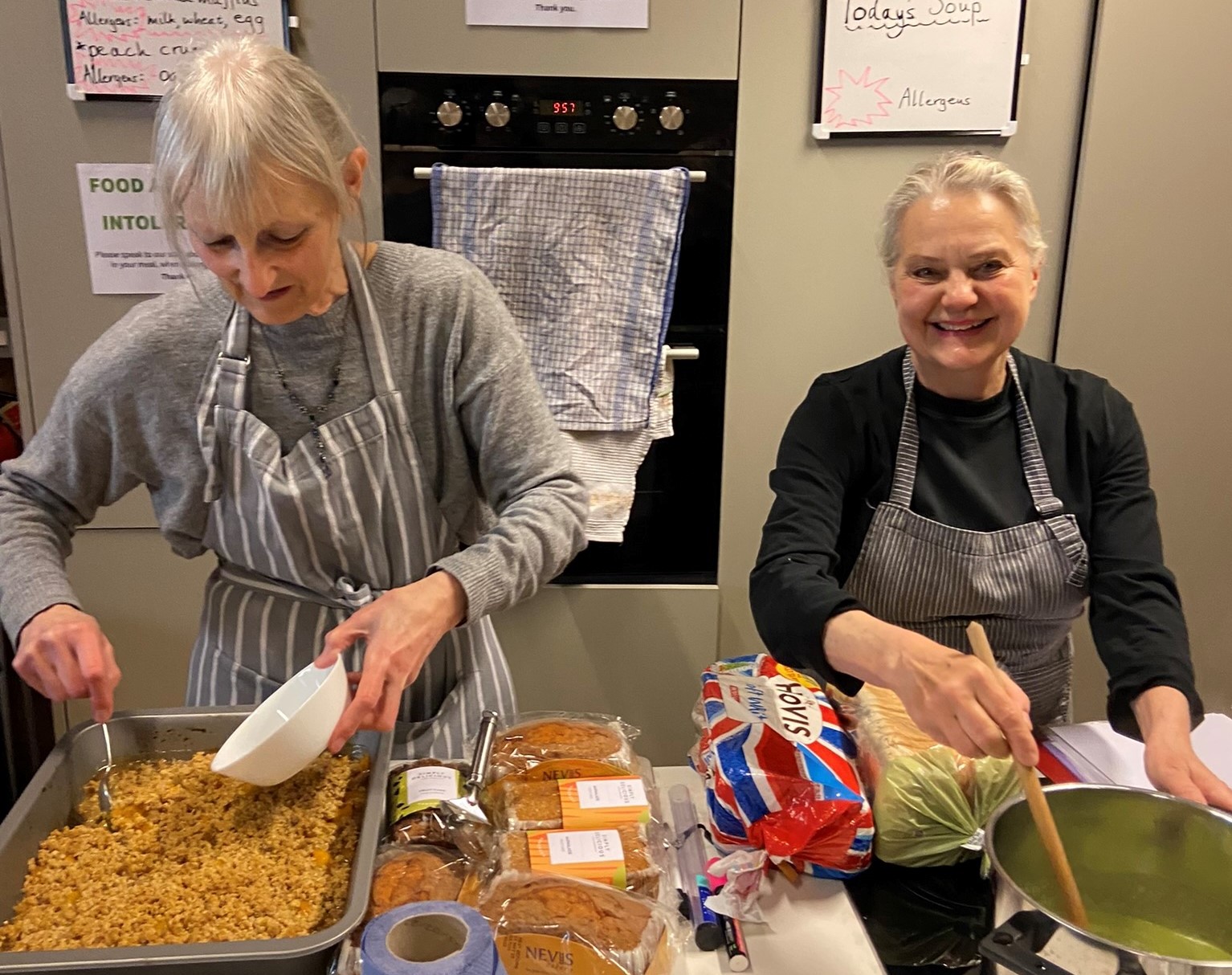 Volunteers, Nikki and Elizabeth, prepare food for the café
What inspired the Wellbeing Café?                          
"During the pandemic, we started delivering freshly cooked meals to local housebound and sheltered housing residents – a project that has continued since. We moved into the kitchen at Oldfield Estate and thought up the plan to open up the café. We felt that particularly during the last winter, when people were suffering from food poverty and having difficulty getting nourishing food, it would be great to have a warm space for people to meet and socialise."
Who can visit the café?
"Anybody is welcome to come and pay what they can afford."
What impact has the café had on the wellbeing of the community?
"It's very clear from the regular visitors that they see it as a regular part of their week. They attend the free market, then go to the café and stay for a few hours and socialise. People have said it's lovely coming here. A couple of people last week said, 'I didn't know about this place, and I'll be coming regularly."
"People have said it's

lovely coming here"
Nikki, Wellbeing Café volunteer
Jim is a regular visitor at the café
What type of food is available?
"The café serves mostly freshly cooked food, including fresh soups made with vegetables, jacket potatoes with cheese and beans, and cakes that have been made the day before."
Who runs the café and how popular has it been?
"It's all run by volunteers. It takes in about 15 or 16 people at a time and it's humming. Everyone is enjoying themselves, and people come to meet their friends. It's in their calendar."
"The success of the Wellbeing Café is due to the hard work of the volunteers who make it possible. It's developed slowly but it's thriving now. Last week, we were pretty full, and we couldn't get anyone else in. It's amazing to see how it's grown."
The Wellbeing Café is an excellent example of how a community initiative can make a real difference to the lives of local residents.  The café is open from 10am to 2pm every Wednesday, at Primrose Hill Community Association, 29 Hopkinsons Place, London NW1 8TN.
To find out more about Neighbourhood Nosh and the Wellbeing Café, visit phca.cc